Custom Precision Part CNC Milling Services
Mold7 massive network means that whatever your part, we have a shop and a machine that can make it. We support 3-axis, 4-axis, 5-axis milling, and right angle milling capabilities to help you rapidly create designs from simple straight lines to complex geometric shapes. We offers instant pricing, on-demand lead times, and design-for-manufacturability feedback on materials and manufacturing processes for your custom CNC milled parts, no matter your industry.
What is CNC Milling Service?
The Basics Of CNC Mills
CNC mills are automated cutting machines using a rotating spindle-head to cut away unwanted material. CNC milling machines come in a variety of sizes and different axis configurations. This manufacturing process is mainly utilized to cut harder metals but can work with workpiece materials ranging from plastic and aluminum to stainless steel and titanium.
How CNC Milling Works
CNC mills excel at profile cutting harder materials. Like all CNC machines, a CNC mill is controlled with G-Code created through CAM software. The Gg-Code instructs the machine where to move the tool head, how fast to spin the tool, how deep to cut, how to move the workpiece, and other factors relating to speed, feed rate, and coordination. The G-Code complexity depends on how many axes the milling machine has.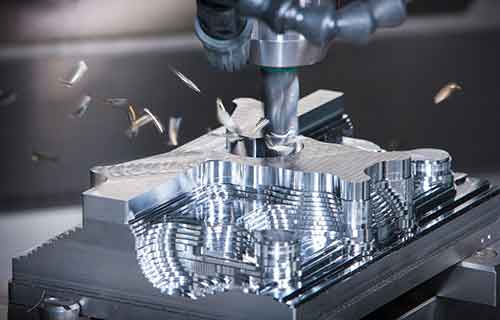 Custom CNC Milling Materials
CNC Milling Tolerances & Standards
CNC Milling Surface Finishes
Advantages of CNC Milling Services
Rapid Turnaround
Using the latest CNC machining capabilities, we produces highly accurate, quick turn parts in as fast as 1 day. We also instantly quote CNC machined parts, cutting days off of your RFQ process.
High Precision Tolerances
Offers high-precision tolerances ranging from +/-0.001″ – 0.005″, depending on customer specs. We are the experts in making parts that are truly custom and ready to use.
Scalability
CNC machining processes are perfect for prototyping and production CNC parts. mold7's massive scale can help you scale up from testing phase to production runs of 100,000 parts of more.
Material Selection
Choose from over 50 metal and plastic materials. CNC Machines offer a wide variety of certified materials.
CNC Milling Frequently Asked Questions
FAQs List of CNC Milling Services